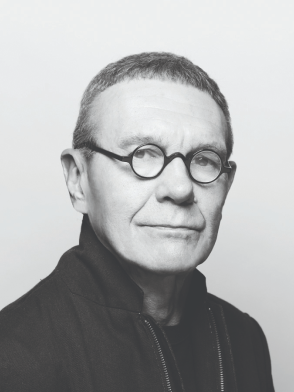 David Mocarski
David Mocarski admits to "an unrelenting passion for all things art and design." The accomplished designer works very much as an artist. He pursues creativity and investigates materials and technology. He is inspired by "the idea, the expression, the process, the journey." Whether creating furniture for Fiam Italia or designing his own loft studio, Mocarski seeks to bring art into life; to fuse aesthetics with practicality and simplicity.
Mocarski earned an MFA from the University of California at Santa Barbara. Since 1971 he has exhibited internationally in the fine arts, as well as limited edition and commissioned furniture. In 1978, he joined the faculty of Art Center College of Design in Pasadena, California, where he is Chairman of Environmental Design. Mocarski is principal of Arkkit Forms Design, which was founded in Los Angeles in 1982 as a multidisciplinary design studio.
Free from the constraints of a single discipline, Mocarski works with an eclectic and international group of clients that includes Sony-Columbia-Tri-Star, Melopa of Switzerland, Baron Philippe Rothschild, Taylor of Old Bond Street and the Vichon Winery. He has designed furniture for Artedi, ADR, Creative Elegance and DWR. Widely published, his work has appeared in Praxis, Domus and Marie Claire. A recent interiors project, "Seatrain House," appeared on the cover of Dwell and was featured in the New York Times "House & Home" section, as well as the book, Prefab Modern.
Mocarski has often turned to reinventing the language of furniture. The Libre Modular Sofa Collection, a sleek sectional that can be variously configured to fit any corner or face in any direction, exemplifies his approach to use, flexibility and comfort. In tune with the rigorous aesthetics of early modernism, David Mocarski is yet very much a part of the 21st century and the demands of day-to-day life.