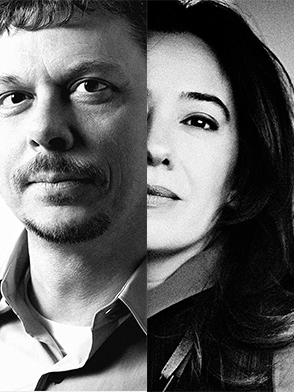 Defne Koz & Marco Susani
Defne Koz established her design studio in Milan, creating bestseller products for Alessi, Fontana Arte, Foscarini and Leucos, and pioneered design in Turkey working for VitrA, Alparda, Megaron, and Gaia&Gino. Today she is one of the most world-renowned Turkish designers.
Marco Susani is a design visionary who extended the culture of Italian design to new fields like Interaction Design and Strategic Design. He started his career with Italian design guru Ettore Sottsass, worked in Milan at Olivetti, Sottsass Associati, and Domus Academy. He then moved to the US to create the Motorola Advanced Concept Group and later was Motorola's Global Vice President of Digital Design.
Koz and Susani use their design vision as an innovation strategy to explore and define new product and service spaces, often as an embodiment of a corporate vision and brand. Their studio offering spans from product design to interiors to interaction design, from crafts to hi-tech products, always focusing on high quality design that embraces vision and innovation while preserving human, emotional qualities.
Based in the US, they are global and work for international clients while remaining deeply rooted in their Italian and Turkish design cultures.